Kenya News
Edwin Sifuna at Loggerheads With Gachagua Over Hustlers Fund
Nairobi Senator, Edwin Sifuna, clashed with Deputy President Rigathi Gachagua over the former's remarks urging Kenyans to default on the Hustlers fund loans.
On Saturday, December 3, Sifuna was on record urging Kenyans not to repay the money after borrowing. 
He claimed that Kenya Kwanza's manifesto had promised to offer grants for economic empowerment but went back on their word to offer loans payable with an interest. 
This was the second time in two days that the Orange Democratic Movement(ODM) Secretary General was accused of downplaying President William Ruto's signature promise of elevating ordinary Kenyans.
Nairobi Senator Edwin Sifuna speaking during a senate retreat on September 22, 2022.
Twitter
Edwin Sifuna
He made a similar statement on Thursday, December 1, opposing the initiative by the Kenya Kwanza administration. 
"Help Ruto keep his own promises. Convert that loan into the grant he promised. He will do you nothing. Happy Sabbath," Sifuna trolled. 
His statements were, however, denounced by DP Gachagua, who described them as retrogressive and an obstacle to the goals of achieving development.
Speaking at a function in Murang'a on Friday, December 2, Gachagua warned Kenyans against heeding such advice from leaders in the opposing faction. 
"I have seen an Azimio Senator in Nairobi telling people to default the loans what kind of wisdom is that?
"If you see a leader rising to tell people to default on loans, that is not leadership. That is the kind of retrogressive politics that made us win against Azimio," remarked Gachagua. 
Gachagua's stance was also advanced by President William Ruto during the launch of the Hustlers Fund on Wednesday, November 30.
Ruto called upon beneficiaries of the Ksh50 billion to uphold integrity to ensure the fund's longevity. 
The Head of State noted that the entry of the Hustler Fund was a second chance for former loan defaulters hence Kenyans should not squander the opportunity.
In anticipation of possible defaults, the government adopted deterrent measures, including withholding savings for beneficiaries who fail to service the loan.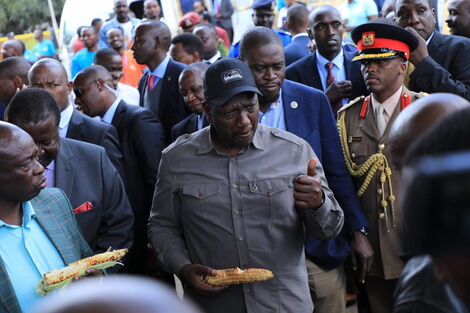 President William Ruto (in black cap) and Deputy President Rigathi Gachagua chew roasted maize during a conversation with traders moments before the official launch of the Hustlers Fund on November 30, 2022.
Kenyans.co.ke
Ivy Claire