Kenya News
Military Clashes With Landlords Erecting High Rise Apartments Near Barracks
The Kenya Defence Forces (KDF) expressed displeasure over the influx of high-rise buildings encroaching on their operation base. 
Lieutenant Colonel Juvenalis Atanja argued that the cropping developments surrounding their Laikipia Airbase and the outskirts of Nanyuki town have heavily affected their operations.
Atanja, while addressing a consultative meeting held between the military and various county stakeholders on Friday, December 2, stated that the structures posed a flight safety risk that heavily derailed the air patrols.
"Most buildings being erected near the airbase are built along flight paths used by the military jets and planes, which contravenes the urban planning regulations," Atanja stated.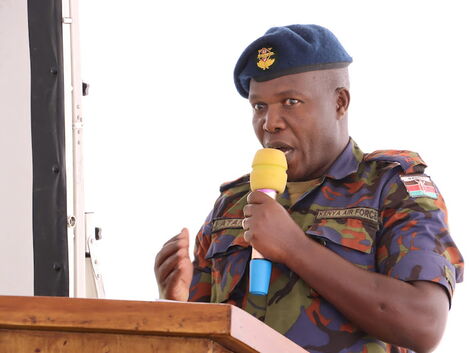 A photo of Kenya Air Force Lieutenant Colonel Juvenalis Atanja speaking at a consultative meeting in Nanyuki on Friday December 2, 2022.
KNA
The military man appealed to Laikipia governor, Joshua Irungu, to halt all ongoing developments near the airbase until elaborate measures are employed to construct such structures near the facility.
Buildings, he reiterated, were barred from exceeding three floors. 
"These buildings are a threat to the military and also those living around incase of a mishap," the colonel warned.
Other issues addressed during the consultative meeting were land, infrastructure, environment, and natural resources.
Kenya Air Force Flight Safety Officer, Major Ishmael Olwal, addressed the meeting too, stating that the tower blocks near the military base affected the approach and takeoff of jets during training sessions.
"We have witnessed private landowners extending their boundaries to encroach on military land thus posing a security threat," the major attested.
Governor Joshua Irungu pledged to demolish all structures found culpable in breaking the set rules.
Irungu assured the expedition of inspection by the county urban planning department around the contested land near the barracks.
"We will ensure that buildings that have broken the law are brought down, we will not tolerate shady landlords putting the lives of tenants and the military in jeopardy," the governor declared.
According aviation laws, no person is allowed to construct a building or a structure within the vicinity of an aerodrome unless authorised by the National Aviation Authority.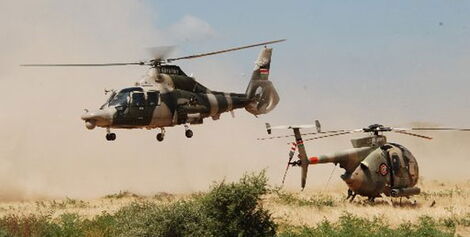 Kenya Airforce choppers in action.
File