Ghana News
Provide speedy information on 'Debt Exchange Programme' to reduce speculation, uncertainty – PwC boss to government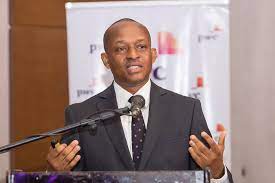 Country Senior Partner at accounting and auditing firm, PwC, Vish Ashiagbor, is urging the government to provide some information as soon as possible on the planned Debt Exchange Programme it announced recently to reduce the level of speculation and also enable businesses and households to plan effectively.
According to him, this remains an area of significant uncertainty, which continues to generate speculation, rumour and possible misinformation, and therefore government must act fast.
Commenting on the 2023 National Budget, Mr. Ashiagbor said Ghana is faced with high debt level which is a major area of concern.
Ghana's total debt stood at ¢467.37 billion, approximately75.9% of Gross Domestic Product as of 30 September 2022, with about 58.1% of this position being financed by external debt.
The 13.3% growth in external debt from the 48.4% recorded in 2021 has largely been attributed to the depreciation of the local currency and is estimated to have added approximately ¢93.9 billion to the debt stock.
"This has created significant uncertainty for businesses, particularly financial institutions, as well as the general public, as the Budget did not provide details of the planned debt exchange programme that it announced. As such this remains an area of significant uncertainty, which continues to generate speculation, rumour and possible misinformation. We encourage the Government to provide some information as soon as possible to reduce the level of speculation and to enable businesses and households to plan effectively".
Budget confirmed economy in difficult situation
Other medium to longer term measures announced as part of the budget include imposition of a debt limit on non-concessional financing, including placing a moratorium on new financing for 2023 and undertaking major structural reforms in the public sector by reviewing the operations of 36 State-owned Enterprises, eight Special Purpose Vehicles, 90 Joint Venture Companies, 38 Regulatory institutions, 68 Statutory Bodies and six Subvented Agencies.
Mr. Ashiagbor said the budget confirmed that Ghana's economy is in a difficult place.
"2022 has been a difficult year and there is no doubt that 2023 will be a more difficult year for businesses, households and citizens in general", he explained.
However, he said "we believe that "Restoring and Sustaining Macroeconomic Stability and Resilience through Inclusive Growth & Value Addition" is attainable, subject to rigorous implementation of the policy measures that have been announced. The policy direction set out in the Budget is clear; we look forward to more specifics that will guide effective implementation toward achieving the results that we all desire.
He added that much of what Government plans for 2023 and the medium term hinges on the outcome of government's engagement with the International Monetray Fund and other key stakeholders, including Ghana's creditors, noting, "Overall, it is clear that there is much work to be done all round to achieve the stability and growth that we desire".
He stressed that this will require all stakeholders to put their shoulders to the wheel and to support the drive to fundamentally change the structure of our economy so that it can be more resilient.
Expenditure management good but timely and aggressive implementation need
The 2023 Budget Statement signals a number of initiatives that seek to rationalise government expenditure and respond to concerns raised by the general public about the need to reduce the cost of running government business, while directing as much of our scarce resources as is possible to support the less privileged in our society.
They include implementing action of the government directives on expenditure measures, Integrating public procurement approval processes with GIFMIS to ensure that projects approved are aligned with budget allocation, among others.
Mr. Ashiagbor said "these expenditure management initiatives set out in the budget are welcome and demonstrate a positive start to addressing the concerns of the citizenry in this regard. The key however lies in the timely and aggressive implementation of these expenditure management measures, including monitoring and evaluation of the impact of these measures on our overall fiscal consolidation effort".
DISCLAIMER: The Views, Comments, Opinions, Contributions and Statements made by Readers and Contributors on this platform do not necessarily represent the views or policy of Multimedia Group Limited.