Togo News
Togo: Higher Tax Authority collected 79% of its annual target for 2022 at the end of September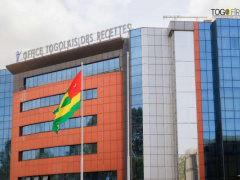 From January to September 2022, the Tax Office (CI) and the Customs and Indirect Taxation Office (CDDI) of the OTR – Togo's higher tax authority – collected CFA646 billion in taxes. This amount represents 79% of the OTR's target for the year, which is CFA814 billion.
This was disclosed by the Ministry of Economy and Finance in a recently published report covering the execution of the State budget up till the end of September 2022.
In the first semester, the OTR collected CFA409.41 billion. Between July and September, it collected CFA237.34 billion.
The amount mobilized in the first nine months exceeded that obtained over the same period in 2021: CFA 563 billion.
These tax revenues consist mainly of taxes on income, profits, and capital gains (CFA148 billion), goods and services (CFA326 billion), and assets (CFA1.6 billion).
There are also revenues from duties and taxes on foreign trade and international transactions, which stood at CFA151 billion between January and September this year.
Esaïe Edoh